when i was a kid, i always wanted to be an interior designer, or a fashion designer or a painter. anything related to arts are my passions (photography, pop culture, fashion, music, dance).
i've drawn some of my designs and i promised myself to build it as it is for my parents. but, dear, don't keep promises you can't keep. but i still kept on drawin' and drawin'. i even made a swing chair for living rooms. i have alot of reference magazines and hardbounds too like: modern retro, the sixties, cool kids room, Preview etc. and i learn new designs. i know that someday i'll make the best house for my parents.
i found this retro interior design from deviantart.com. seems a little old-60s design. i don't know where to get those kinds of television. the one that looks like an astronaut's helmet.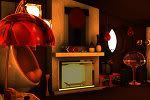 i love lava lamps. i think it's too vintage. where can you get lava lamps now? (other than house decorations shop.. haha. *bloat*) my ideas for a stylish, vintage-inspired house are:
1. black and white tiles (or white and pink)
2. swing chairs (memory of my childhood)
4. 60s-70s movie posters on the wall
5. neon-colored chairs and citrus fruit on the table
7. a small rectangular hole on the wall where i can read books
9. penguin bathroom (for my sister)
10. kidney-shaped pool (for my sister)

i expressed my prodigy once again.