me and Jessica Thompson from California have an ongoing swap. and surprisingly, i asked her for knee-high socks.
yesterday, february 4, 2007; we went to Meat Plus and i ordered Penne Pomodoro con crema and mango shake (too much details), Jessica told me that she found two knee-high socks and asked me what colour i wanted: fuschia? or yellow with an "ink" lining?
today, february 5, 2007; drastic memory why i'm in an internet cafe, Jessica e-mailed me and i found out that she crawled her way into a

website of socks

.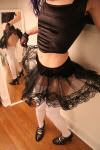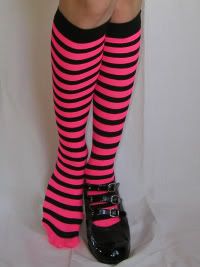 is a sock online shop.
sells stuffs other than socks which are (some are) cooler.
they sell stuffs from socks to leg warmers to petticoats to leggings to scarves to arm warmers to pedicures to t-shirts to garters to miscellaneous.
i am green with envy for not having access to online credit card functions.
only 4 years more so i can get my credit card. (and to think mom and dad doesn't have a credit card in the age of 45). story of my life.
Fin.